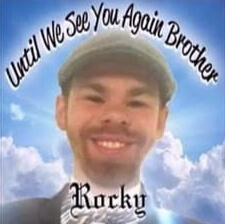 Memorial
On April 23, 2019, Jacob Summers ( Rocky ) passed away.
Rocky was affectionately known as everyone's little brother.
Rocky was certainly the MOST famous BFC member (sorry Pastor Fred). He had such a God-given determination to share the Good News of the Gospel with anyone and everyone. Rocky was such an encouragement to all who met him.
We are all going to miss him terribly BUT – we KNOW that he is singing and dancing with our Savior and we will see him again!!!
Rocky, we love and miss you Little Brother.
Tim ( U-Turn ) and Michelle Fontaine
Support Crew
Support Crew Members also know as a Supporter, are part of the Bikers For Christ Family, loved, respected, and appreciated. Bikers For Christ values their contribution and service to the Lord.
What follows is the testimony and thoughts from a beloved Support Crew Member, Rocky.
Jacob Wendell Summers ( Rocky )
Hi, my name is Jacob Wendell Summers, also known as Rocky. I'm proud to be a Support Crew Member (Supporter) of Bikers For Christ Motorcycle Ministry (BFC).
Early March of 2013 I went to the leather guy to have another patch sewn on my vest. He told me I would be at home in motorcycle ministry. I wasn't sure about it, so I prayed for the Lord's leading. He called Joker, a BFC Member to introduce me. Joker and I met, I told him my Christian testimony, and we prayed for one another. I was excited about the opportunity to serve alongside BFC and fell in love with their patches. I also spoke with my pastor about joining this ministry.
On March 17, 2013, I joined BFC as a Future Member of Bikers For Christ. My pastor was there to bless my new service to the Lord. Future Members are either children or adults that are not yet ready to become a Supporter or Member. I was excited to be a part of this incredible motorcycle ministry.
I met the Detroit Chapter and learned what the ministry is all about. I continued to go to events and meetings as I grew in my relationship with BFC Members. I became friends with Pastor Fred Zariczny (Pastor Z), the Founder of BFC on Facebook and talked a lot about the ministry.
On June 14, 2015, I attended the Zanesville Biker Fest, meet Pastor Z, and many other members. At Biker Fest I became a Supporter Crew Member.
Why Become a Supporter
Supporters serve alongside Members, attending events and going where the Lord leads, proclaiming the Gospel of Jesus Christ. As a Supporter you're not alone, your part of the BFC family with many Brothers and Sisters loving and supporting you. It's a blessing being a Supporter because you never know who you will meet and bless.
Prayer is an essential contribution to the ministry. As a Supporter, you pray for Members, Chapter Elders, Regional Elders, National Elders, and others in their time of need.
Being a Supporter broadens your opportunities to fulfill the great commission given in Matthew 28:19, "Therefore go and make disciples of all nations, baptizing them in the name of the Father and of the Son and Holy Spirit."
Supporter Or Member
The requirements for becoming a Supporter or Full Patch Member are different. Members are required to have and ride a motorcycle, attend member meetings, and attend events.
For those called to motorcycle ministry but can't make the time commitment to become a Member or don't have a motorcycle, being a Supporter is a splendid opportunity for ministry.
Supporters earn their Support Crew patch by being faithful to their chapter, members, and doing ministry as you can. BFC also has Support Crew shirts, hats, and other items for Support Crew Members.
What's Expected
Support Crew Members attend chapter meetings and events when they can. You don't have to be at all meetings or events but staying plugged in keeps you informed and growing as a Supporter. Remember prayer is an essential part of being a Supporter.
Supporters wear the Support Crew Patch and shirts to show Support and in honor of Jesus Our Savior.
Impact On My Life
On June 14, 2015, I attended the Zanesville Biker Fest. We went on a ride to the Salvation Army, had lunch, and I became a Support Crew member in-front of 300 plus Members who chanted my name like I was in a sporting event and was famous.
My life has been impacted and blessed by God since becoming a Supporter. God opens doors for me to speak to anyone about the Gospel and BFC. I visit places where I thought I would never get to go. Attending the BFC Nationals in Nashville Tennessee was an unforgettable experience. It's more than a reward to serve God with BFC as a Supporter.
When I'm in public places people approach me and ask what is BFC, where do you meet, and what does BFC do? At motorcycle events, bikers that know me, come up to get a selfie together.
It's been a whole honor serving and being a part of BFC for the last six years, and there are many more to come.
Love and respect,
Rocky
Testimony
After I moved to Indiana I met Rocky over Facebook and spoke with him on the phone several times. Each time we spoke, I was greatly encouraged by his passion for the Lord, people, and BFC.
Until you meet Rocky in person, you can't fully appreciate this glowing Christian Brother and BFC Supporter.
I was privileged to attend the Bike Blessing at New Baltimore in 2018 with Rocky and Michigan Bikers For Christ Members. Seeing Rocky interact with so many bikers at this event encouraged me greatly. He seemed to know everyone by name. They enthusiastically greeted Rocky with biker hugs and big smiles. It was obvious Rocky's impact and respect within the biker community there.

Karl Shifflett ( Wild Man )
Bikers For Christ Indiana