Promise Made, Promise Delivered
On 23 April 2022, Pastor Kurt Erickson and Karl Shifflett hand-delivered the CELOX™ Rapid Gauze to our medics. We were not able to go to the front lines the week Pastor Kurt was here due to heavy fighting, so the medics came to us. We also delivered CELOX Rapid Gauze to other medics not pictured below.
Thank you so very much for your giving. In Heaven, you'll get to meet the soldier whose life you saved with your donation. May God bless you for your donation to Ukraine and the CELOX Rapid Gauze.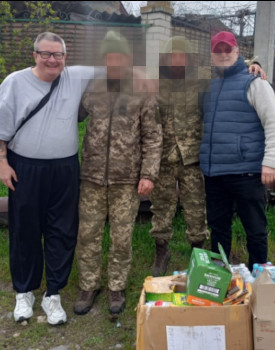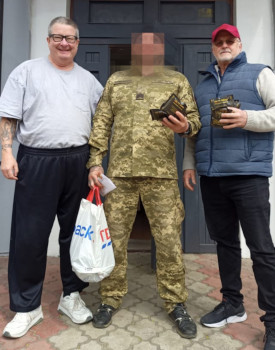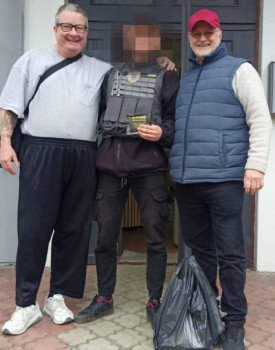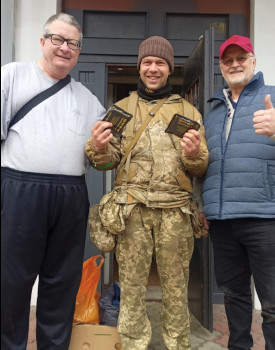 CELOX Rapid Gauze Delivery
This short video (edited for brevity) shows interacting with one of our medics during the delivery of the CELOX Rapid Gauze. In addition to an explanation, we watched a training video and provided directions translated into Ukrainian. Most of our medics were familiar with CELOX Rapid Gauze, for those who were not, we did in-depth instruction.
Visiting The Front Line
This video was made when Pastor Elijah Perevoznuik, Dima Krasnopir, and I went to the front lines. Dima made this incredible video of the trip. We went out of town to bring aid to our soldiers on the front lines in the Southern Region of Ukraine. We traveled only 40 kilometers and saw the horrors of war with our own eyes.
Went to support our military, and give them medications and supplies. But in the end, the military encouraged us with their unbreakable spirit, courage, positivity, and an attitude to retake every bit of our Ukraine. Thank you to the Armed Forces of Ukraine, we are proud of you.
The Beginning
On 27 February 2022 Pastor Kurt Erickson of Eleos Ministries and Karl Shifflett of Bikers For Christ Indiana partnered together to bring much-needed life-saving CELOX™ Rapid Gauze to Ukraine. CELOX Rapid Gauze hemostat stops the bleeding in 1 minute or less from serious arterial wounds. It costs about $48.00 per package.
CELOX Rapid Product page: https://www.celoxmedical.com/cx-product/celox-rapid/
Moving To Mykolaiv, Ukraine
On 21 April 2022, Karl moved to Mykolaiv, Ukraine. He is a volunteer at Церковь Победа Николаев, Victory Church of Mykolaiv. You can follow Karl Shifflett on Facebook to learn more about the work God has for us.
Stop The Bleeding Continues
We have begun raising additional funds for another round of CELOX Rapid Gauze. When enough money comes in, we will make a second purchase and Pastor Kurt will return to Mykolaiv, delivering the CELOX Rapid Gauze. Thank you for considering supporting the purchase of additional CELOX Rapid Gauze. All the money donated will be used to purchase the CELOX Rapid Gauze.
Stop The Bleeding Expanded
After spending time in Moldova and since moving to Ukraine we have expanded the Stop The Bleeding mission to cover these additional areas.
Children Of War
Anti-Sex Trafficking website
Anti-Sex Trafficking applications
Website for helping raise money for those defending Ukraine
Children Of War is an effort to help children and teens horribly impacted by the war. We have obtained materials translated into Ukrainian for the child and facilitator. We have arranged for training over Zoom, to begin on 6 June 2022 for many Christians to be trained over a 10-day period. Karl will take the training in English in May.
Anti-Sex Trafficking website, targets women in high-risk situations, explaining the terrible consequences of trafficking and how to spot and avoid traffickers. The website will also provide contacts and information for many European countries. This website will be in multiple languages and make it very easy for women to consume the content and stay safe when traveling.
Anti-Sex Trafficking applications are under design with experts in the anti-trafficking world feeding into the designs and development. Some applications will be private others will be available in the app stores.
Staying Informed
You can follow these Facebook pages to keep up with news from inside Ukraine.
Маша Перевознюк (Masha Perevoznuik) (https://www.facebook.com/masha.perevozniuk)
Маша (Masha) is Pastor Illia's (Elijah Perevoznuik) wife in Mykolaiv, Ukraine. She posts about what the ministry is doing there. Facebook will translate her posts into English automatically for you. The videos the ministry posts all have English subtitles. This is the Pastor and church I'm working with here in Ukraine.
Церковь Победа Николаев (Victory Church of Mykolaiv) (https://www.facebook.com/victorychurch.myk)
Dima Krasnopir, Church Videographer and Producer (https://www.facebook.com/dima.krasnopir)
Karl Shifflett (https://www.facebook.com/KarlShifflett263)
Kurt Erickson (https://www.facebook.com/kurt.erickson3)
Pastor Don Louvier (https://www.facebook.com/donald.l.louvier)
Steve Boles (https://www.facebook.com/steve.boles.1)
Mission to Ukraine (https://www.facebook.com/MTUkraine)
Your tax deducatable donations will be processed and tax receipt letters by Spirit Led Ministries . When making your donation, there will be a note field, please type in: "For Stop The Bleeding" thank you.
You can donate online using the Donate To Stop The Bleeding button our mail a check to:
Indiana Bikers For Christ - Attn: Pastor Don
PO Box 355
Wolcottville, IN 46795
In the check note field, please write, Stop The Bleeding.
Thank you very much for your financial help for Ukraine and for praying for us.
Much love and respect,
Pastor Kurt and Karl
---
Stop The Bleeding Bible verses from the New Living Translation
Proverbs 19:21 You can make many plans, but the Lord's purpose will prevail.
Proverbs 29:25 Fearing people is a dangerous trap, but trusting the Lord means safety.
Proverbs 31:8-9 Speak up for those who cannot speak for themselves; ensure justice for those being crushed. Yes, speak up for the poor and helpless, and see that they get justice.